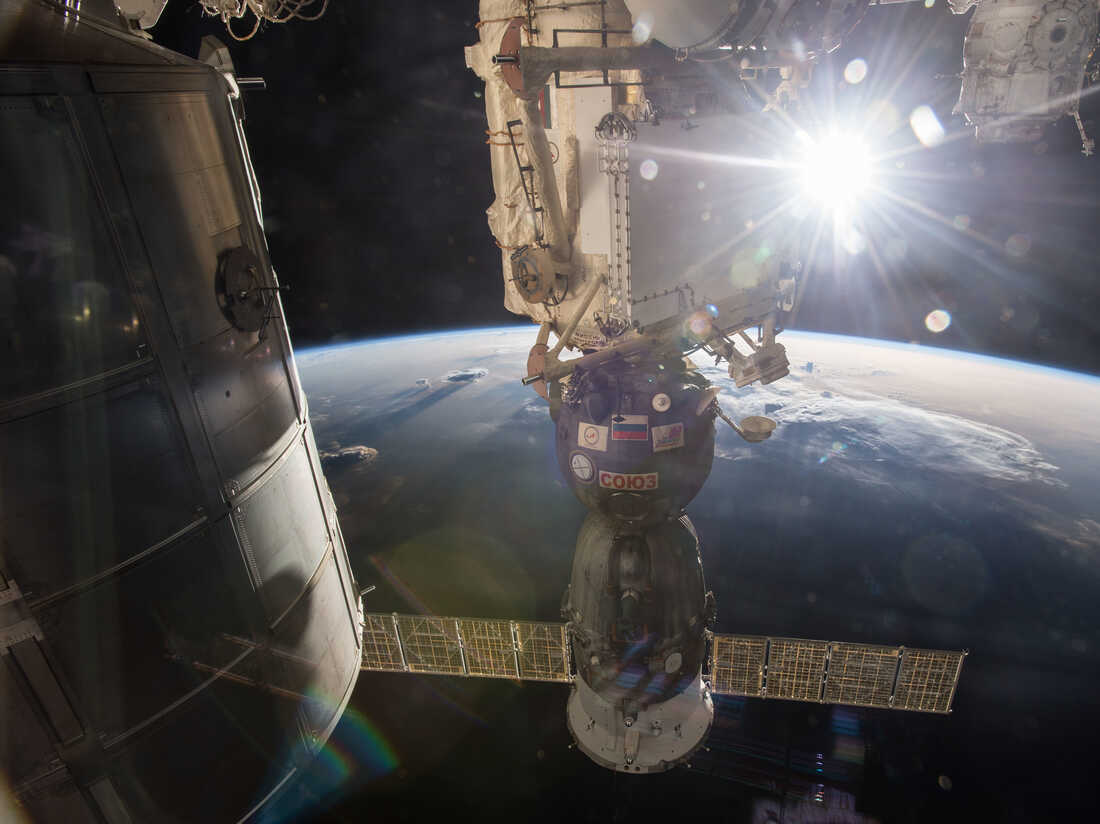 In April 2014, a Soyuz spacecraft docked with the International Space Station.
Terry Virts/NASA A cosmic handshake in 1975 signaled the beginning of collaboration between seemingly unrelated parties.
The Apollo-Soyuz mission was the first time the American and Soviet space organizations worked together in orbit. The world watched as Soviet cosmonauts and American astronauts hugged more than 100 miles from Earth after their spacecraft from each nation docked in orbit. After many years of Cold War-era geopolitical tensions, the mission served as a potent signal of de-escalation.
Years later, the United States and Russia worked together to construct the International Space Station, which has come to represent international cooperation in space science. However, that long-lasting alliance might be coming to an end.
Russia made the decision to end the program after 2024 public last week.
In 2014 and 2015, soon after Russia took the Crimean peninsula from Ukraine, retired Air Force colonel and NASA astronaut Terry Virts served as the ISS's commander.
He claims that the ISS is the only positive aspect of U.S.-Russian ties left, and that there is little reason for the two countries to continue cooperating in space in light of Russia's invasion of Ukraine.
In order to discuss his experiences working with Russian cosmonauts and the effects of their leaving, he joined All Things Considered.
This conversation has been condensed and made more concise.
collaborating with cosmonauts from Russia
One of the best moments of my space travels was that. I made sincere efforts to unify the crew. I didn't want the American and Russian segments to be cut off from one another. I would therefore take my food in a Ziploc bag in the evening and float down to the Russian part. And that was a lot of fun. We kept the radio on. They joked around. They called it the Cultural Program, and they taught me a lot of Russian phrases that I didn't learn in school. I have continued to be friends with them.
Keeping that crew together in 2015 while we were in space amid the Crimea, the civil war, and the sanctions was perhaps my biggest achievement at NASA.
The Expedition 43 crew of the International Space Station, led by Terry Virts (center left), attaches their mission patch on the vehicle.
Terry Virts/NASA on how the turmoil on Earth impacted his friendship with his Russian crewmates and the invasion of Crimea by Russia
We would acknowledge "the conflict," you know.
After the training was through, the Russians would toast each other, and we would say: "Politics is politics, after all. We will only concentrate on completing our mission."
Even though there was a lot of tension and disagreement between the United States and Russia, one of the few positive aspects of relations between the two countries was the space station.
On how the ISS will operate when Russia leaves
Russian rockets are the only thing needed for the space station. The only really significant rockets are on the Russian side, as we opted 20 years ago to scrap our own propulsion module.
SPACE Although we currently rely on Russian rockets to keep the station in orbit, I believe we could create "our own rockets" quite soon.
On Russia's upcoming space move
The fact that "the plan to leave the ISS" was "just revealed" by a Russian official, in my opinion, is the key to this entire topic because Russian officials regularly make announcements. They also lie a lot of the time. They frequently change their minds.
So I'm not sure what will happen. I am aware that anything coming from Russian officials should not be trusted. They declared that they would not invade Ukraine. They vowed not to massacre people in Ukraine. Yet they nonetheless committed these crimes.
SPACE If they quit ISIS, they could either work with the Chinese, which I don't believe will happen, or they could build their own space station, which I don't believe will happen. And the dynamic of a Russian-Chinese relationship will be very, very different. In such cooperation, the Chinese will have the reins. Russia and we have a fantastic working relationship. They have been treated with respect; it is an equal union. And with China, that won't be the case. When they have to deal with Chinese people, their eyes will be opened. They are now in a corner.
Regarding the geopolitics of space cooperation
I'd really like to keep working with the Russians. Although I have many good friends in the Russian space program, I believe that in order for that to happen, they will need to leave Ukraine and make amends for the harm they have caused there.
By aggressively cooperating with Russia in space exploration, what we're doing now is comparable to Germany and the United States "going on an excursion" to the Arctic in 1941. And that, in my opinion, is not good.
Because of their appalling record on human rights, we don't let the Chinese on the space station, so I don't see why we're supporting and expanding our partnership with Putin when he's waging war in Europe.
Kai McNamee modified this tale for the internet.