NEW Fox News articles can now be heard on audio! According to emails provided to Fox News Digital, the office of Special Presidential Envoy for Climate (SPEC) John Kerry engaged in several conversations with left-leaning environmental organizations that appeared to influence policy choices.
According to documents obtained by government watchdog Protect the Publics Trust (PPT) and shared with Fox News Digital, representatives of the SPEC office attempted to discuss important agenda items as recently as December with non-governmental organizations like the Sierra Club and the United Nations Foundation.
The documents, which were received through a request for information, did not record any interactions or meetings of the same nature with fossil fuel energy organizations or businesses.
In a May 2021 email arranging a Zoom meeting between environmental organizations and SPEC officials, climate policy consultant and senior associate Alden Meyer wrote, "You'll notice from the participants' list that there's a lot of interest in this subject."
The email from Meyer had the subject line "Zoom info and subjects for tomorrow's G7 discussion," and it included the CEOs of 13 environmental organizations as well as four SPEC officials whose names were censored. The email highlighted a number of the issues the parties intended to cover during the virtual call, which was scheduled to take place weeks before high-level G7 meetings in the U.K.
EMAILS SHOW THAT JOHN KERRY'S SECRETIVE CLIMATE OFFICE DISCUSSED KEEPING PLANS OFF "PAPER"
The officials intended to debate whether the U.S. would accept a G7 declaration that prohibited finance for fossil fuel infrastructure, phased out the sale of conventional gas-powered vehicles, and stopped coal power generating. On the call, there was also a discussion on whether the United States would lead a global initiative to cut methane emissions.
The email also indicated that the group would talk about a "clear counteroffer" to the Belt and Road Initiative (BRI), a massive infrastructure project that would link China and Europe.
EVERY WORKER NAME IN FOIAED CORRESPONDENCE WAS REDACTED BY JOHN KERRY'S OFFICE
President Biden announced a $200 billion alternative to the BRI in June that prioritized climate change, though it is unclear to what extent the policy discussion had an impact. In addition, the United States committed to reducing global methane emissions at the United Nations climate summit in November. Additionally, by the end of August 2021, Biden aimed to have at least 50% of all car sales be electric.
Additionally, an email sent in December 2021 by Jake Schmidt, the managing director of the Natural Resources Defense Council's (NRDC) international program, revealed that a number of environmental organizations had been invited to a briefing on international fossil fuel financing by the SPEC office and National Security Council (NSC), which Kerry has an opinion on.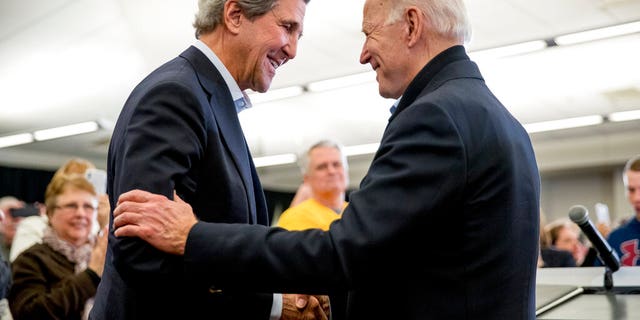 Schmidt sent an email to fellow environmentalists on December 16, 2021 that read, "I'll send a calendar invite with the Zoom specifics but wanted to put this on your radar." A briefing on the International Energy Engagement Guidance has been delivered by the State Department (ENR and SPEC) and the NSC.
Leaders of organizations that actively promote a swift switch from fossil fuel energy to environmentally friendly sources like wind and solar, including Friends of the Earth, Oxfam, Sierra Club, Oil Change International, the Climate Reality Project, World Resources Institute, the Bank Information Center, RMI, and the Center for International Environmental Law, received the email.
According to the papers provided to Fox News Digital, an email of this nature was not addressed to business organizations supporting conventional energy sources like oil and natural gas.
CLIMATE OFFICE OF JOHN KERRY RIFE WITH LINKS TO FAR-LEFT GREEN GROUPS
"These conversations seem to provide evidence that large, powerful activist organizations may be pushing the same expensive climate policy that just passed as what some are terming the Green New Deal Lite," PPT Director Michael Chamberlain told FOX News Digital. "Just as FOIA revealed that teachers unions exerted undue influence in the development of policy regarding school reopening."
There are numerous signs, he continued, "that the opinions of their political allies may be a stronger motivator of policy for an administration purporting to be led by the science. It is hardly surprising that popular confidence in the American government is at an all-time low.
Rather than responding to inquiries regarding the emails or whether Kerry's office similarly interacts with fossil fuel industry groups, a State Department representative pointed Fox News Digital to the organization's "Requester Service Center."