YouTube NEW Fox News articles can now be heard on audio! Republicans have been called "cruel" and even xenophobic for their positions on illegal immigration, but when Democratic Mayors Eric Adams and Muriel Bowser raise the alarm about thousands of illegal immigrants entering their sanctuary cities, the mainstream media doesn't seem to care.
Numerous liberal commentators and mainstream journalists have demonized former President Trump as a xenophobe over his immigration policy and border wall. The Miami New Times listed Florida Governor Ron DeSantis' 2018 pledge that he would only permit legal immigrants among the Republican governor's "racist things," The Guardian warned that Texas Governor Greg Abbott, R., "echoed the xenophobic rhetoric" of Trump, and other prominent Republicans have long been shamed by the media over their views on immigration. However, when a Democrat is the elected official demeaning immigrants, the derogatory names tend to disappear, but conservative radio presenter Jason Rantz isn't shocked.
Let's not be shocked, Rantz said to Fox News Digital, that left-wing media outlets have been soft on Democrats over illegal immigration.
AFTER REQUESTING HELP WITH THE MIGRANT SURGE, THE WHITE HOUSE HAS "CONSTRUCTIVE CONVERSATIONS" WITH THE DC MAYOR
When it was politically expedient, both Mayors Adams of New York City and Bowser of Washington, D.C., reminded everyone that their population centers were meant to welcome everyone. Bowser reiterated D.C.'s status as a sanctuary city in a statement she released just a few days after President Trump won the election. This means local law enforcement will not be allowed to cooperate with federal immigration agents. When running for office in 2021, Adams followed suit and tweeted, "Yes, New York City will remain a sanctuary city under an Adams administration." These cities and states will frequently take action to eliminate all distinctions between immigration that is legal and illegal.
Adams and Bowser's positions have changed in recent weeks as a result of the thousands of migrants who have been moved from Texas and Arizona to the two Democratic-run cities.
Democrats and left media attacked Abbott for a busing program that saw Texas send hundreds of buses full of migrants to Washington, D.C., and New York. The "ReidOut" MSNBC blog dubbed it a "cruel publicity gimmick." Rantz thinks that many media outlets have used Adams and Bowser to paint Abbott in a negative light.
We have so much video of immigrants crossing the border that if we uploaded it all to YouTube, the servers would become overloaded, he said. "What action did the media take? acted as if it didn't exist. an issue at the border? What issue? Democrats are complaining now that the issue is affecting them where they reside, and the media is framing their coverage of the bad Republican Governor Greg Abbot's barbaric busing of migrants to NYC and D.C. How ridiculous."
Video
The serious homelessness crisis that has plagued New York City for more than a year has only worsened as a result of migrant busing. In the meantime, Bowser has called on the National Guard to be sent out on numerous occasions and has referred to the surge of migrants as a "humanitarian disaster."
For federal assistance, both Democratic mayors have applied. Inquiries from Fox News Digital regarding whether the mayors of Washington, D.C., or New York City are rethinking their sanctuary policy in light of the migrant surge were not answered.
NPR CHARGES GOP GOVERNORS WITH TRANSPORTING ILLEGAL IMMIGRANTS TO DC WITHOUT A PLAN FOR WHAT COMES NEXT
"Shouldn't the media report the struggle of tiny towns in Texas and Arizona trying to control the problem if large Democrat-run, sanctuary cities that previously welcomed illegal immigration can't handle them? Although the double standard is common, it is nonetheless quite offensive "said Rantz. Why do you suppose so few people believe the media?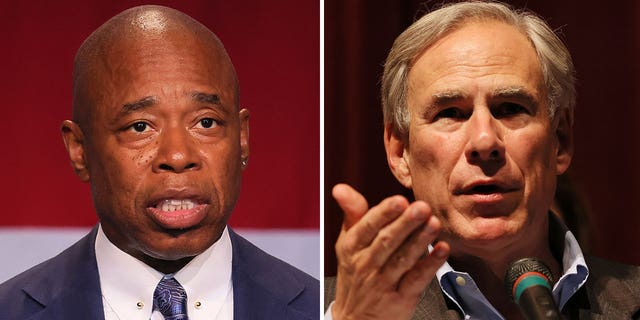 While Bowser requested that the D.C. Armory be used as a processing facility, they nonetheless objected in public. Adams has praised what he sees as New York City's welcome approach and has assisted in finding accommodation for migrants.
While frequently condemning Republican governors, many mainstream media outlets have covered Adams and Bowsers' stances without once raising the xenophobic flag. Officials said they are not equipped to handle the big influx of migrants, in large part because of communication problems with Texas, according to Axios, which claimed that New York and Washington, D.C., were "overwhelmed."
Adams "condemned" Texas Gov. Greg Abbott after greeting a group of migrants, according to Politico and the Washington Post. According to CBS News, Adams is "furious" with Abbott after he sent buses of asylum seekers from the border to the city. While local New York media criticized Adams earlier this month over a potential scandal in which a whistleblower was purportedly fired for raising issues regarding migrant conditions, CNN's Brianna Keilar didn't bring it up in an interview with Adams on "New Day" on August 12, focusing instead on his spat with Abbott.
Adams wasn't vilified as xenophobic, though Julio Ricardo Varela criticized him for "blowing his chance to be truly welcoming" in an MSNBC opinion piece on August 14. In the meantime, the "ReidOut" blog claimed earlier this year that Republicans were escalating "xenophobic rhetoric" regarding illegal immigration.
ABBOTT NOTIFIES NYC MAYOR ADAMS THAT SHE WILL BE RUNNING A TEXAS CAMPAIGN FOR BETO O'ROURKE: PUSH IT
Jeffrey McCall, a professor of journalism at DePauw University, asserts that "mainstream media have been fairly inconsistent in managing the rhetoric" around immigration.
"Labeling individuals who merely disagree with immigration policy—or lack thereof—is particularly counterproductive. The establishment media are currently having a lot of trouble describing Adams and Bowser's opposition to immigrants being bussed into their cities, "cited by McCall in Fox News Digital.
The media likes to generously cover them both because they are Democratic mayors of significant cities, but they can't bring themselves to call the mayors racist or something similar, McCall continued. "This inconsistent rhetorical framing is another another reason why most Americans have lost faith in the media to be fair and convey news in a measured manner," the author writes.
Contributors to this piece from Fox News include David Rutz, Anders Hagstrom, and Adam Shaw.