Advertising executive Max Lefeld denounced the action as a political gimmick after Florida Governor Ron DeSantis transported two planes filled with asylum applicants, the most of whom were from Venezuela, to Martha's Vineyard in Massachusetts.
Lefeld, a Venezuelan American and founder member of the Casa Venezuela Dallas organization, which aids recent refugees, said, "It's like me taking my trash out and just driving to different regions where I reside and just dropping my trash there."
However, a video of the migrants disembarking from the plane in Massachusetts was met with generally positive responses in an Instagram post from Miami-based EVTV, which specializes in Venezuelan news, as well as numerous emojis of applauding hands.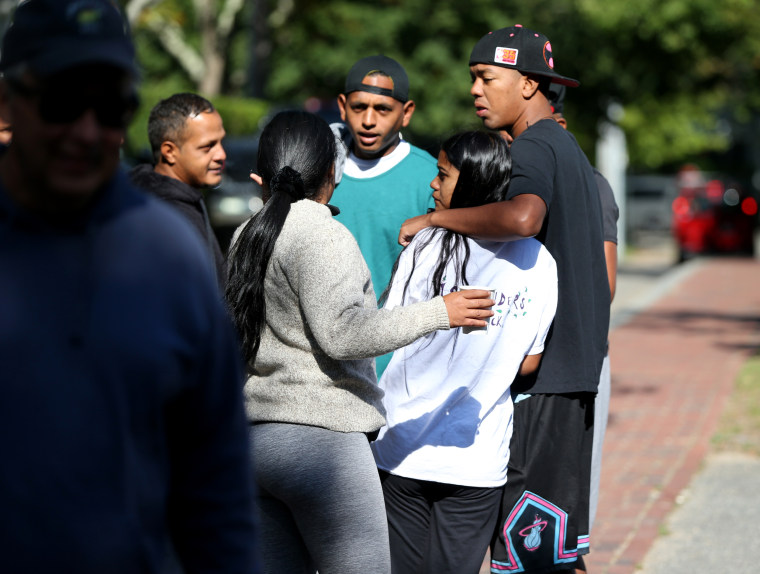 DeSantis and Texas Governor Gregg Abbott, both Republicans, are shifting asylum-seekers from Republican states to Democratic ones, which is escalating the dispute and dividing Americans of Venezuelan descent over the growing influx of people from that nation.
Political differences are the main source of contention; Democrats in Venezuela criticize the action while Venezuelan Republicans defend DeSantis.
Patricia Andrade, a Miami-based nonprofit worker who has spent more than seven years assisting recently arrived Venezuelans, said she feels bad for the Venezuelans who were flown to Martha's Vineyard, but added that DeSantis was attempting to draw attention to an issue that the Biden administration is unwilling to tackle.
Many of the Venezuelans Andrade assists with food and home item donations claim they came to the United States believing they would receive shelter and food from the American government.
However, she observed that many of the Venezuelans that arrived ended up on the streets.
She claimed that the most recent influx of Venezuelan immigrants to the country had divided the neighborhood, with some people thinking that some of the migrants were criminals who were traveling to the country impulsively rather than on purpose.
She argued that if the U.S. government is going to permit them entry, they should conduct a criminal background check on them and set up a system to provide them with housing and food.
A remarkable division
In Texas, Lefeld claimed that comments on the Facebook page of his foundation from people refusing to assist Venezuelans from the Chavista party—a reference to the country's late socialist leader Hugo Chavez—or who claimed that the most recent arrivals were a part of the country's current leftist administration of President Nicolás Maduro.
Lefeld, the founder of the advertising company Co.Jones, remarked that he had a critique for his fellow countrymen in this country: "People made it, just like them, but they are walking and they don't have luggage, and we flew." Somehow, people lose track of how they got here.
He claimed that the division in American politics had spread to create an unbelievable divide.
Former lieutenant in the Venezuelan army, Jos Antonio Colina now serves as the director of Veppex, a Miami-based group helping Venezuelan exiles.
Colina disagrees with DeSantis' actions because they "are not consistent with what DeSantis has previously articulated." It was a "political stunt," he said.
He added that, prior to DeSantis' actions, his organization and other organizations had voiced their concerns to the Department of Homeland Security about the fact that individuals being released in the United States included former members of the Maduros paramilitary group, former police officers, and people who had been released from prison.
According to Colina, it poses a threat to both the national security of the United States and those who are looking for political asylum.
He claimed that the Venezuelan community is perplexed and that the true issue is the large migration of Venezuelans across the border, which DHS is unable to effectively manage.
Since 2014, more than 6.8 million Venezuelan refugees and migrants have emigrated to other nations, contributing to one of the world's worst refugee crises. After slowing down after the Covid-19 outbreak, migration has substantially surged in recent months.
With the greatest oil reserves in the world, the South American nation was once among Latin America's most rich. In the past, many Venezuelans visited the United States for holidays and shopping.
After the late President Hugo Chavez took office in 1999, everything changed. The economy deteriorated during his communist government due to poor planning. The economy collapsed under his successor, Nicols Maduro, leading to a scarcity of food and medicine as crime and violence increased.
Migration slowed as a result of the pandemic lockdowns because it was harder to travel and there were fewer job prospects. To mitigate the economic crisis, Venezuela's government implemented changes. At the height of the pandemic, Venezuelans started returning home, but the pattern has since changed.
Migrants from Venezuela frequently traverse the dangerous Darien Gap at the Colombia-Panama border before traveling north via Central America.
Many of them travel to Florida, where there is the largest Venezuelan community in the United States, after applying for asylum and being granted it.
Throughout his four years in office, former President Donald Trump courted Venezuelan-American voters with his anti-communism stance. Trump, Vice President Mike Pence, and other administration representatives visited Florida on several occasions to meet with local leaders and deliver speeches about Venezuelan policy. In the 2020 election, the majority of Venezuelan voters supported Trump and other Republicans.
DeSantis has also engaged with Venezuelans, and his anti-socialism rhetoric has found favor with them. Republicans are supporting DeSantis' decision to transfer Venezuelans to Martha's Vineyard, while Democrats are criticizing it. As a result, many Venezuelans are now divided.
THEY ARE "THROWN AWAY"
DeSantis and other Florida politicians, according to Carla Montilla, a Venezuelan American graduate student in Washington, D.C., frequently mention communist nations and claim to support those nations' citizens.
According to Montilla, who is originally from Doral, Florida, where many Venezuelan Americans reside, these are just hollow political talking points. She remarked, "These communist victims are here right now, and they are just being thrown away."
Even though Montilla is a Democrat, she has Republican family members who "have found this behavior repugnant."
Follow
ESPN Latino
for the Facebook, Twitter, and Instagram.