A former police officer who had just appeared in court on drug charges went on a shooting and stabbing rampage at a daycare facility on Thursday, killing 38 people in northeastern Thailand, including 24 children and a pregnant teacher, officials said.
The assailant drove into people and shot bystanders as he fled the carnage scene before going home and killing his wife and their child, according to authorities.
Later on Thursday, a police press conference confirmed that the perpetrator had used a 9mm handgun but had primarily attacked the toddlers and young children with a knife.
According to a police spokeswoman named Paisal Luesomboon, the attacker was seen by witnesses brandishing both a knife and a gun.
He claimed to have started shooting, slicing, and killing kids at the Utai Sawan daycare facility.
According to the office of Police Gen. Surachete Hakparn, at least 12 persons were injured, eight of them critically, and were seeking medical attention.
19 boys and 3 girls were among those who perished at Uthai Sawan, located 310 miles northeast of Bangkok in the province of Nong Bua Lamphu, according to authorities.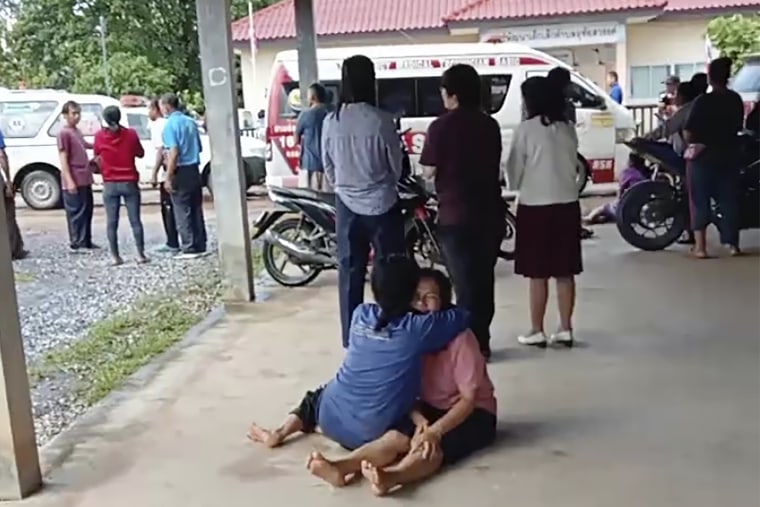 Police identified the culprit as Panya Khamrab, 34, who worked at Na Wang Police Station in Nong Bua Bamphu province up until his arrest with methamphetamines last year.
According to Col. Jackrapat Wijitwaitaya, the officer in charge of the case, Khamrab committed suicide after the rampage.
On a narcotics accusation that resulted in his termination from the police last year, the suspect had appeared in court hours earlier on Thursday.
Around 30 kids were there when Khamrab entered the center during lunchtime, according to a local official who spoke to Reuters, Jidapa Boonsom. She claimed that one of the murdered teachers was eight months pregnant.
The perpetrator broke into a closed room where the kids were sleeping, according to Jidapa. If it weren't for a strong rainstorm, there would have been more kids in the center.
Pictures of children's bodies laying in a room with alphabet posters and vibrant educational materials on the walls are spreading on social media; these images have not been independently verified by NBC News.