The U.S. attorney general's office and the Justice Department's Civil Rights Division will look into a viral video that shows law enforcement holding down and assaulting a man on Sunday morning outside a convenience store in Mulberry, Arkansas, according to Arkansas Governor Asa Hutchinson on Monday.
Following considerable indignation over the video, in which one of the officers repeatedly punches a shoeless man's head and slams it into the ground as another knees him, and a third holds him down, the three officers were suspended on Sunday.
The tape was taken from a moving vehicle at the Kountry Xpress market in Mulberry, which is roughly 137 miles northwest of Little Rock. It is unclear what happened prior to the recording.
The Crawford County Sheriff's Office told the NBC station KARK of Little Rock that the officers encountered the man, Randal Worcester, after a store clerk complained to another police agency that a person had threatened him and spat on him. When contacted on Monday, the sheriff's office did not react.
At a news conference, Hutchinson stated, "First of all, that is deplorable conduct in which a suspect is pummeled in that form." "We got a sneak peek at that. It is being looked into. We don't know all the information, and it's true that the subject had previously caused the officers reasonable cause for worry, but the way they responded was inconsistent with the training they get as Arkansas Law Enforcement Training Academy-certified officers."
I understand that a separate inquiry will be carried out by the Department of Justice's Civil Rights Division and the U.S. attorney, he continued.
A separate federal investigation, according to Charlie Robbins, a spokesman for the Western Arkansas U.S. attorney's office, is in progress.
The August 21 incident involving Randal Worcester in Crawford County has been the subject of a civil rights investigation launched by the FBI Little Rock Field Office, the Department of Justice's Civil Rights Division, and the U.S. Attorney's Office for the Western District of Arkansas, according to Robbins. "The FBI and the Arkansas State Police will gather all relevant information and make sure the inquiry is handled fairly, completely, and impartially. We are unable to make any other comments at this time because this inquiry is still continuing."
The three policemen were identified as Zack King, Levi White, and Thell Riddle of the Mulberry Police Department, where he has served since March 2017, and as Crawford County sheriff's deputies. Their superiors made the announcement on Monday. In the meanwhile, Riddle was placed on administrative leave, according to Mulberry police, and officers of the Crawford County Sheriff's Office were suspended with pay. Requests for comment made on Monday at the numbers indicated for White and Riddle were not immediately fulfilled. King was unavailable for comment. It's unclear if they have legal representation.
At a press conference on Monday, Crawford County Sheriff Jimmy Damante described the deputies as experienced policemen "None of them is a newbie. They have served as cops for a while."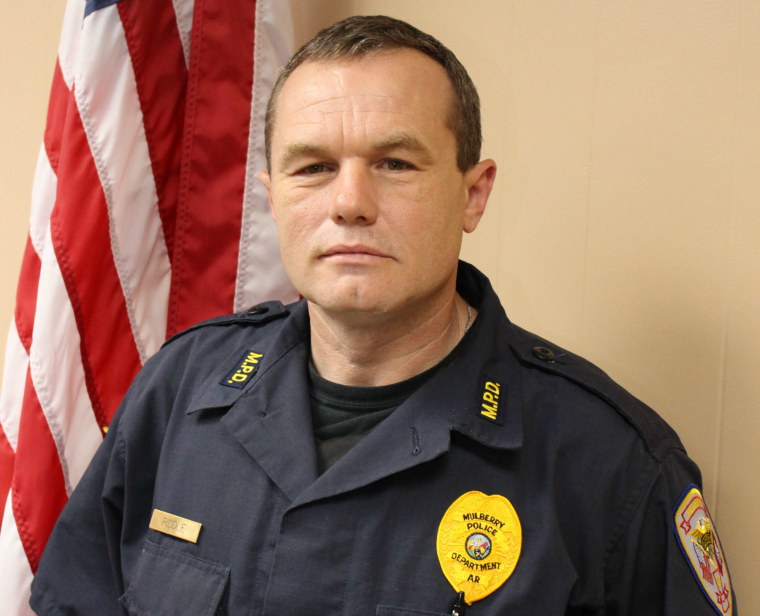 The Mulberry officer's police car had a dashcam, which, in Damante's words, "shed a little more light" on things that "weren't caught on the citizen's camera," despite the fact that none of the cops were wearing body cameras.
When asked if he would have heard about the event if the video hadn't been released on social media, Damante said, "Probably not."
He stated that the incident was being looked into by the Arkansas State Police as "a criminal conduct," and that the sheriff's office was also looking into it to see whether the police had broken any rules. He refrained from commenting on the police' behavior but promised to hold them accountable until the investigation was finished.
The use of physical force by the deputies and the police officer will be the only focus of the state police's inquiry, they stated.
Worcester, 27, is from Goose Creek, South Carolina, according to the authorities. At the news conference on Monday, Damante claimed that one of the cops had questioned Worcester about whether or not he was carrying any firearms. He claimed to have done so, and in my opinion, he eventually gave it to the police officer, Damante stated. He claimed it seemed like Worcester started acting violently when the officers tried to arrest him.
Second-degree battery, resisting arrest, terroristic threatening, second-degree assault, criminal mischief, in possession of a weapon used in a crime, refusal to comply, and criminal trespass were the charges brought against Worcester.
There was some confusion regarding Worcester's injuries at first. He was treated at a hospital, according to state police, and then imprisoned.
When Carrie Jernigan and David Powell, two of Worcester's attorneys, visited him, they noticed that his right ear was swelled and purple. He also complained of head discomfort and had cuts on his knees. His eye was gouged at one point during the incident, according to Powell.
Powell remarked, "He had a lot of things happen to him that shouldn't have happened."
On Monday, reporters questioned Damante about whether Worcester, who was seen in his arrest shot sporting a hoodie, was forced to do so in order to hide his wounds.
"Nothing is being concealed. I have nothing to conceal, "said Damante. "Nothing will be kept a secret. We promise to be completely open about everything."
After posting a $15,000 bond, Worcester was freed from the Crawford County Jail on Monday.
At his press conference on Monday, Hutchinson denounced the officers' behavior.
He stated, "I did want to emphasize that this is not what our law enforcement community represents, it's not the proper approach, and they will be evaluated and appropriate action will be made accordance with what the investigation we learn from that and what the results are.
Jernigan and Powell commended the onlooker who captured the video, stating that they might not have understood what happened in the absence of it.
I believe it is safe to assume that he is only grateful, Jernigan stated. "What would have happened if that individual hadn't been recording is unknown to us. Whoever she is, I believe she might have spared his life."