Here are the top video Fox News Flash headlines. See what people are clicking on FoxNews.com.
NEW Fox News articles can now be heard on audio! An excavator was stolen from a construction site, driven a mile to a grocery store in Salt Lake City, where it was used to destroy the parking lot, according to investigators, who then detained a man from Utah on Saturday.
After receiving calls about a guy "randomly" tearing up a grass strip and sidewalk in front of Smiths grocery store at 828 South 900 West, police started their investigation at around 12 o'clock, according to the Salt Lake Police Department.
A recently dug, muddy trench is visible in the store parking lot in both video and images supplied by the department.
The suspect damaged a water main and tore out recently installed fiber optic utility wires, according to the police, causing severe damage. Utility workers found no gas leak and were determining the extent of the harm.
According to police, the suspect entered the excavator after it had been left running at a construction site near 900 South 300 West. The suspect was pursued by members of the construction team to the supermarket, where he started the destruction. Why the individual reportedly stole the large equipment is still a mystery.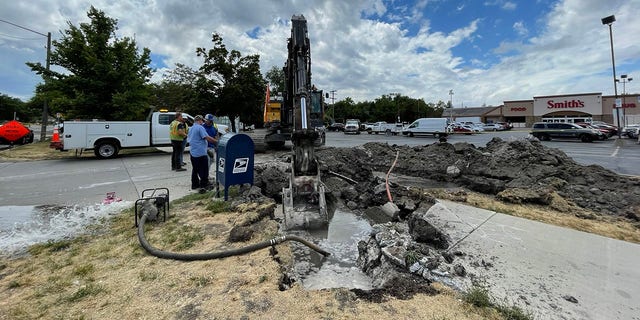 According to authorities, the suspect seriously damaged property by slamming into a water main and tearing up fiber optic wires. (Officers of the Salt Lake City Police)
Until police arrived, a group of witnesses prevented the suspect from leaving the site.
According to authorities, the suspect was apprehended without a hitch and was scheduled to be booked into the Salt Lake County Metro Jail on felony theft and felony criminal mischief charges. Until the booking procedure was through, his name and age were kept a secret.
Utility workers were evaluating the damage's scope in image 2. (Officers of the Salt Lake City Police)
According to the police, no accidents or reported injuries took place while the excavator was being operated illegally.