Photographer and friend Misan Harriman shared two never-before-seen images of Prince Harry and Meghan Markle on social media on Monday, just days before Queen Elizabeth II passed away.
The pictures capture the Duke and Duchess of Sussex grinning and holding hands just before they spoke at the summit's opening on September 5 in Manchester. The summit, according to its website, "is a chance for the people defining the future of our planet, to come together to face the largest challenges facing humanity."
According to Fox News Digital's Dr. Robi Ludwig, a psychiatrist, "Meghan and Harry are saying in this snapshot that they are united and bonded and are not going away any time soon." The date of its distribution makes this image appear to be one of defiance.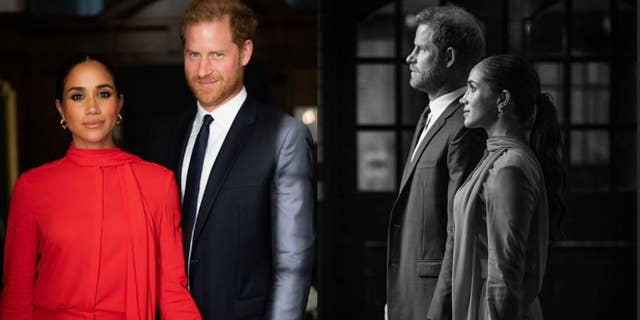 Just two days earlier, on Saturday, King Charles III, Camilla, the queen consort, Prince William, and Kate Middleton, Princess of Wales, were shown in a new painting by Buckingham Palace. Harry and Meghan were glaringly absent.
A ROYAL EXPERT SAYS MEGHAN MARKLE HAS VERY LITTLE OF PRINCESS DIANA'S TRAITS.
The couple, who gave up their status as senior royals in 2020 and moved to California, had attended several events in the U.K. and Europe the week before the queen passed away, including the Invictus Games. On September 8, they were scheduled to attend a party in London when Harry took a flight to Balmoral Castle after learning of his grandmother's failing health.
In the images, Meghan is dressed in a beautiful red outfit, while Harry is wearing a blue suit.
Ludwig added, "The competing royals are out to cause a stir. "Red, a hue that connotes passion, strength, confidence, and rage, is what Meghan is wearing. Not so quick, I have a lot more to say, Meghan seemed to be saying. It will be good, too. She displays her authority and control in the relationship by standing in front of her husband. In this expertly arranged photo, Harry appears happier than he does in the more recent candid photos of him. One thing to observe is that Prince Harry is dressed similarly to his father and brother, sending the message that he and Meghan represent the modern royal family. This image conveys the idea that we can be mighty and regal without a monarchy."
Meghan is "accustomed to being in command," she continued.
Ludwig stated, "If being in control can't happen abroad, she'll make it happen for herself here." "Harry made the decision to marry a woman who could assist him in leaving the monarchy and leading a free life, as his mother, Princess Diana, had long desired. Meghan is the one paving the path and assisting Prince Harry. Prince Harry is also expressing his hatred and anger towards his own family for the perceived slights he feels were made against him by doing this."
The duo may be seen standing next to each other in the same location in a second black and white profile photo.
With the caption, "It was a beautiful environment earlier this month at the roundtable discussion about gender equality organized by @oneyoungworld in Manchester," Harriman also shared another photo of the couple from the event on Friday.