NEW Fox News articles can now be heard on audio! The city of New York has 30,000 cars. It is the biggest municipal fleet in the nation and consists of salt spreaders, garbage trucks, and police cars, but one of them is a little bit more unique than the others.
The most recognizable parades along Broadway honoring American heroes, sports champions, and other dignitaries have featured the iconic 1952 Chrysler Imperial Parade Phaeton.
The black open-top vehicle is one of three such cars that Chrysler constructed and rented out to be used at community activities to help promote the brand.
This year, it is commemorating its 70th birthday.
A $1,000,000 Chrysler that was lost at sea
Two of them were intended for New York and Los Angeles, while the third was ultimately run by Chrysler out of Detroit.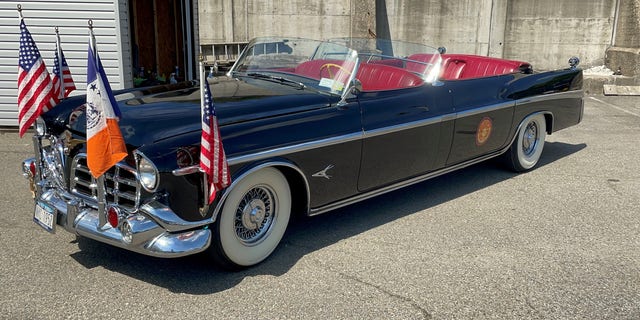 According to Brand Rosenbusch, manager of historical services for Chrysler parent Stellantis, "the third one was originally intended to go to the White House, but because of gifting rules and things of that sort, the corporation retained it and lent it out all over the Midwest for different parades and events."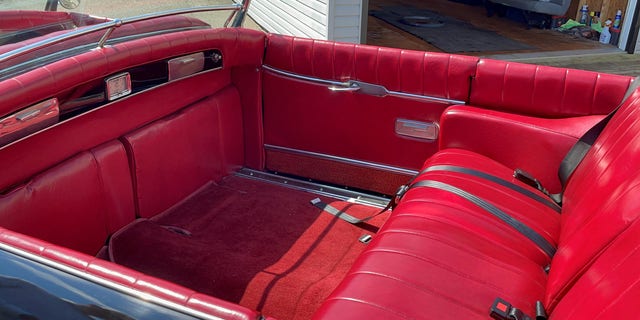 The 20-foot-long, three-ton vehicles are built on the same chassis as the Imperial Crown Limousine, but they have a twin cowl phaeton-style body with an enlarged rear passenger compartment and a bulkhead and windshield separating it from the front seating area.
A second set of seats can slide out from the bulkhead, and security can ride along thanks to steps on the back bumper and grips on the trunk.
In the beginning, Chrysler was in charge of car maintenance. In order to better match the automakers' most recent production car appearance, they were repainted and completely modified in 1955 with new grille, lights, and wider tail fins.
On December 18, 1952, a parade was organized in honor of Lt. General Willis D. Crittenberger, a World War II veteran who finished his career as the Commanding General of the First Army at Fort Jay on Governors Island, a small island off Lower Manhattan.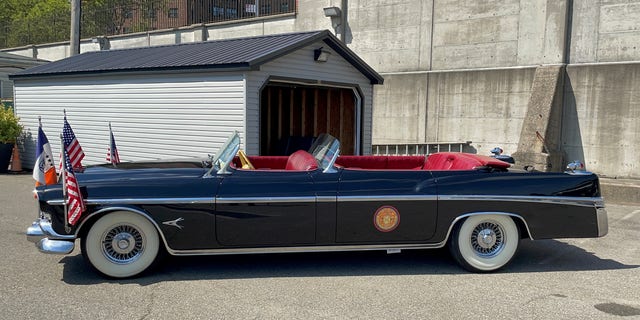 New York was first displayed in this parade.
It was painted white with the update after being originally black. Its original hue was restored during a restoration in the 1980s, and it is still that color now.
It was given to the city by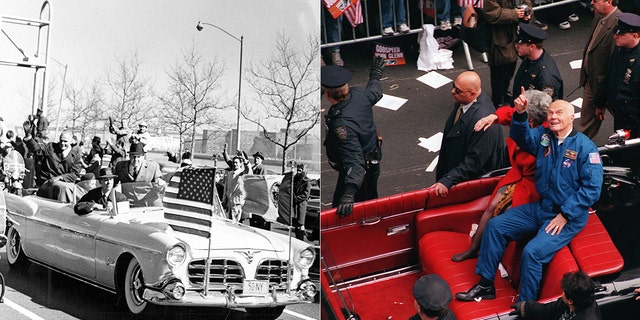 Chrysler in 1961, and the following year, John Glenn, the first American to orbit the Earth, was transported there in it.
After setting a record as the oldest person in orbit at age 77 on a flight on the space shuttle Discovery, he became the first and is still the only honoree to have paraded in it twice. This occurred in 1998.
It also transported a few of the Americans who were held captive in Iran for 444 days; upon their return, they were hailed by their nation.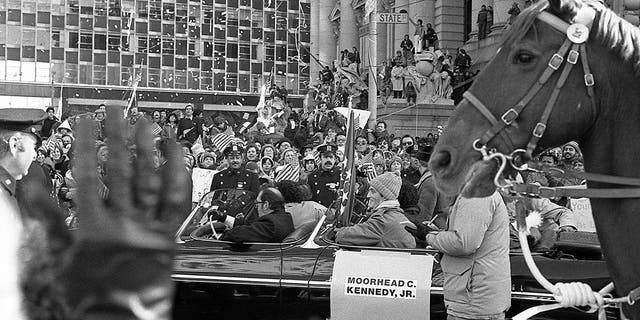 The three astronauts from Apollo 11 traveled in the vehicle while seated on the padded platform constructed over the trunk on August 13, 1969, which resulted in some of the most iconic photos of the vehicle.
The individuals who led one of the greatest successes in human history were doused in ticker tape.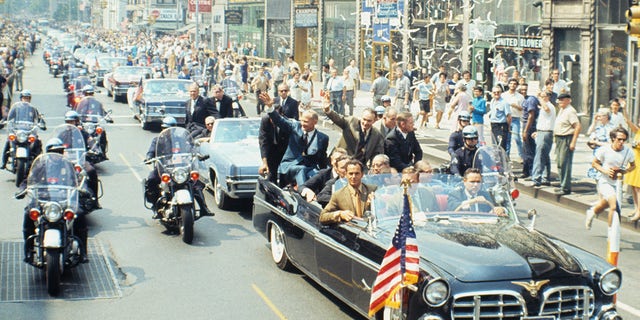 Dawn Pinnock, commissioner of the NYC Department of Administrative Services, declared, "This car is not only gorgeous; it has become a symbol of New York City pride, and it really is such a vital part of American history."
Today, the organization is in charge of keeping it up.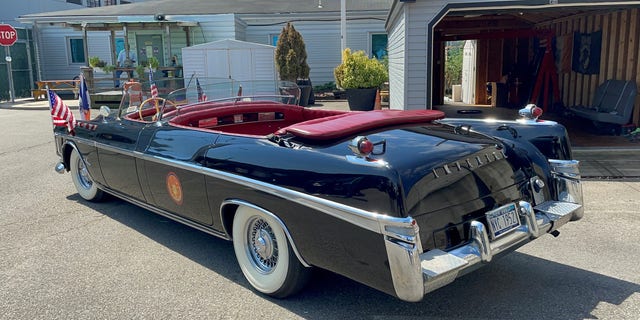 The automobile is kept in a separate tiny shed not far from the Brooklyn NYPD tow pound. Pinnock claimed that it is routinely tested to ensure that it is prepared in case the mayor's office contacts them to request it for a future occasion.
REASONS WHY THE MEMORIAL DAY CAR PARADES IN AMERICA ARE GREAT
The most recent instance of that occurred in 2021, when the city organized a parade for frontline personnel. The first American to receive the COVID-19 vaccine, registered nurse Sandra Lindsay, was requested to go along for the voyage.
She and other crucial workers "got the chance to ride down Broadway through our Canyon of Heroes and be acknowledged for the incredible work that they performed to get us out of the pandemic's grip," Pinnock added.
CHEVROLET CORVETTE FROM 1971 BY APOLLO 15 ASTRONAUT AL WORDEN RE-FOUND AND READY FOR RESTORATION
In order to preserve its seats of honor, this writer had the chance to take the automobile up front for a little trip around Brooklyn. He can attest that even after seven decades, the feeling is still as comfortable as floating on clouds.
The leviathan was being gently moved past admirers who couldn't help but wave and blast their horns at the sight of it by the antiquated 5.4-liter FirePower V8.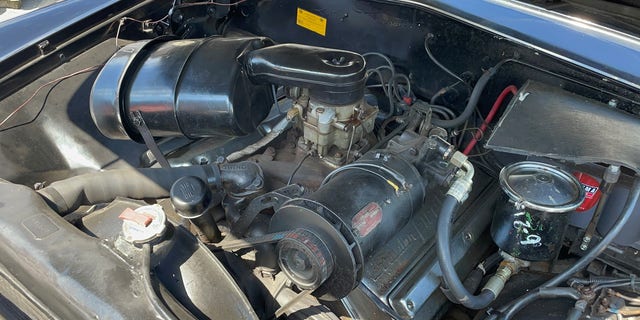 It is actually up to the gods to choose when it will report for official service once more, but Pinnock is confident the city won't have to wait too long to see it on the road.
New York likes to celebrate, and we love to celebrate our heroes even more, so we're hoping one of our neighborhood sports teams will give us the chance to take this car for a drive soon.
"It is priceless. A priceless piece of our past, this."
In 2021, the New York City Football Club won the MLS championship, but owing to continued pandemic worries, only a tiny rally was conducted at city hall.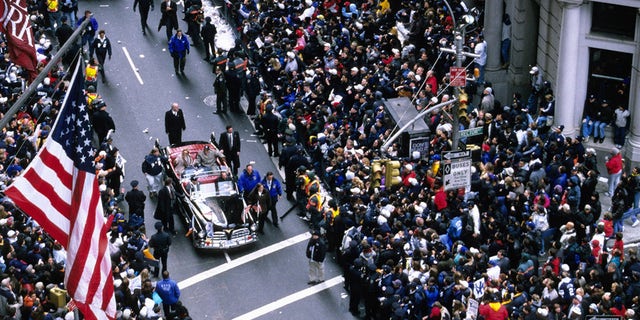 The athletes usually don't ride in it; instead, they prefer to travel with their teammates on a float or bus.
However, when their successors won the World Series in 1996 and 2000, respectively, Yankee greats Joe DiMaggio and Yogi Berra finally had their chance.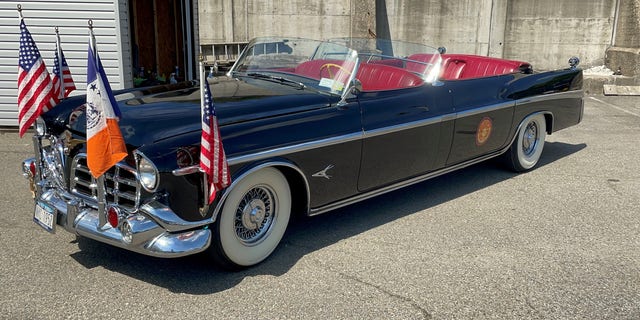 0 While the third vehicle is likewise located in Los Angeles at the Petersen Automotive Museum, it is still the city's property.
Prior to being acquired by the museum in 2001 for an undisclosed sum, it was first sold by Chrysler to a private bidder many years ago.