NEW Fox News articles can now be heard on audio! On Sunday's "Inside Politics," CNN panelists addressed a "vibe shift" in favor of the Democratic Party, claiming that recent Democratic legislative victories demonstrate how party members have "tuned their ideals to reality."
Democrats seemed particularly upbeat about the situation, according to host Abby Phillip, because numerous pieces of legislation, like the semiconductor chip bill, have cleared both the House and the Senate.
Democrats were "ecstatic," according to Politico's Marianne LeVine, since they had not anticipated the Inflation Reduction Act. According to LeVine, Democratic legislators thought they would receive a "narrower health care plan" that Sen. Joe Manchin, D-W.Va., had supported.
A vote marathon is presently taking place in the Senate to pass the legislation with budget reconciliation.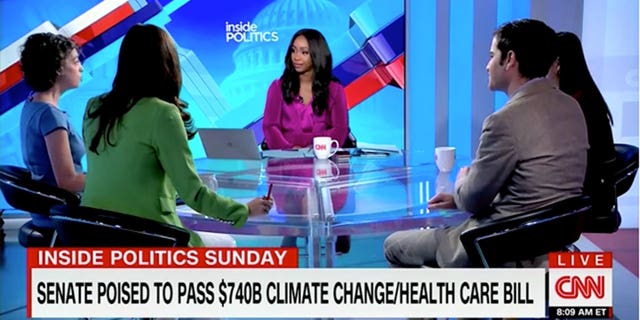 CNN panelists discuss Democratic legislative wins and a "vibe shift" in the party. Screenshot/CNN/InsidePolitics (Screenshot/CNN/InsidePolitics)