Video
After hitting a toll booth and entering Daytona Beach, where he injured a child, the motorist eventually stopped in the sea on Sunday afternoon.
In a video of the event, the car is seen halted where the water met the sand, surrounded by confused beachgoers.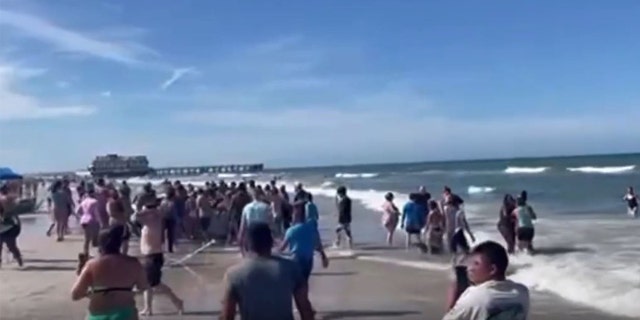 The automobile is being pushed back into the sand by numerous individuals. There are others shouting, one of whom is heard saying, "My baby, my baby."
Although the specifics are now unknown, a Volusia County Beach Patrol representative told Orlando's FOX 35 that the driver may have been experiencing a medical episode prior to the collision.
WASHINGTON POST COLUMN WARNS OF RIGHT-WING DISINFO SPREAD ON SPANISH MEDIA: VET ABUELAS' FAKE NEWS
The driver struck a toll booth as they were approaching the beach from International Speedway, according to the spokeswoman, and then continued onto the beach and into the ocean.
According to the station, a child was hit by the car and needed to be taken to the hospital. There was no immediate information available regarding the child's injuries or any more prospective injuries.
TO DOWNLOAD THE FOX NEWS APP, CLICK HERE
For updates, Fox News has gotten in touch with the Dayton Beach Police Department and the Volusia County Beach Patrol.
.