At least two people were killed on Thursday night when lightning struck close to the White House.
NEW Fox News articles can now be heard on audio! A Wisconsin couple was declared dead on Friday as a result of a lightning strike that occurred yesterday night just outside the White House.
Following the attack at Lafayette Park, James Mueller, 76, and Donna Mueller, 75, both of Janesville, passed away from their wounds, a DC Metro Police spokesperson told Fox News Digital.
White House Press Secretary Karine Jean-Pierre issued a statement in which she said, "We are pained by the unfortunate loss of life following the lightning strike in Lafayette Park. "Our prayers are with those still battling for their lives, and our hearts are with the families who lost loved ones."
Two more strike victims are still in serious condition. Their identities have not been made known to the public.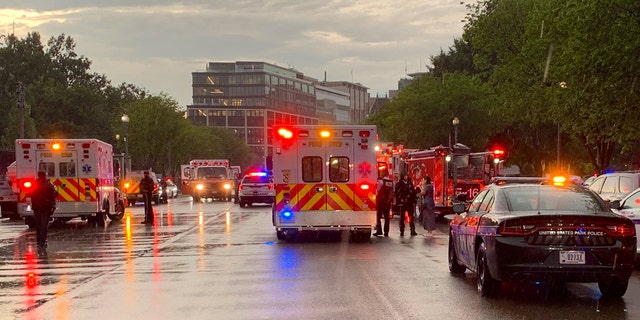 After a lightning strike near Lafayette Park, first responders arrive on the scene. (EMS and Fire in DC)
Around 6:52 p.m. local time, DC Fire and EMS were dispatched in response to reports of a lightning strike in the middle of Lafayette Park.
First responders discovered two adult males and two adult females, all of whom had life-threatening wounds, according to DC Fire and EMS. The hospitals in the vicinity received all of the subjects.
According to Vito Maggiolo, a spokesperson for DC Fire and EMS, the U.S. Secret Service uniformed division and U.S. Park Police officers saw the strike and started providing treatment to the victims right away.
DC Fire and EMS earlier tweeted, "DCs Bravest on scene in the midst of treating and transporting 4 victims, all in serious condition."
This report was contributed to by Fox News' Bradford Betz.